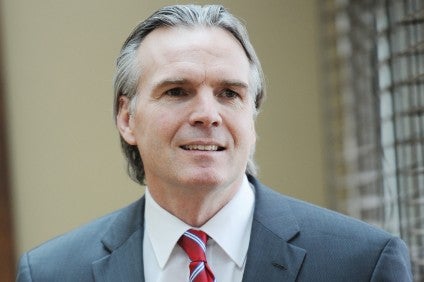 After 25 years at the helm of 2 Sisters Food Group, one of the UK's largest food companies, multi-millionaire founder Ranjit Singh Boparan is stepping aside. Having recently faced a recent hygiene scandal, which dug holes in its finances, he has hired Ronald Kers as CEO. Simon Harvey looks at the challenges ahead for the former Müller executive.
Within weeks of assuming the chief executive role at 2 Sisters Food Group at the start of next month, ex-Muller head Ronald Kers should have a better grip on the state-of-play and the challenges he faces when the privately-owned company fields its third-quarter results on 25 June.
No doubt Kers would have been aware of the slide in 2 Sisters' operating profits and bottom-line earnings over the past few quarters before taking on the job but he will have to navigate a course for a business essentially in turmoil over the past eight months following a hygiene scandal at a poultry-processing plant in the West Midlands.
Kers will take the hot seat four months after 2 Sisters founder Ranjit Singh Boparan announced he had decided to step down as the manufacturer's CEO and become president of the business' parent company Boparan Holdings.
However, restoring customer confidence and improving 2 Sisters' financial performance are not the only hurdles the new CEO will have to overcome. Debts have been hovering around the GBP800m (US$1.07bn) mark, which may explain the reasoning, at least to some extent, behind Mr Boparan's recent decision to sell some assets, and, to consider offloading more.
Whether Kers opts to continue along that same route as part of his own objectives for the business remains to be seen. And more importantly perhaps, whether he will be given a free-hand to pursue his own independent strategy, and without interference, with Mr Boparan in his new role.
A statement announcing the company's second-quarter results on 22 March noted: "Ranjit will continue to oversee the strategic direction of the company, with a focus on reducing debt, supporting development of a world-class leadership team and continuing the drive towards the creation of a better, more transparent and simpler business."
Is radical change needed?
However, an industry source tells just-food a radical change, particularly among management, is needed to refocus 2 Sisters' business objectives.
"Fundamentally, this is one of the UK's largest food producers and it has suffered from a serious lack of good management. Ronald Kers needs to recruit far better quality management and that will only be possible if Ranjit is not at the helm. The 2 Sisters' board must ensure that Ronald has the support to do this. It is imperative for Ranjit to step back and allow Ronald to restructure the business as any CEO would, without interference."
Since founding 2 Sisters in 1993 as a predominately poultry-processing business supplying major UK supermarkets with own-label products as well as its branded Buxted range, Mr Boparan has embarked on an acquisition spree, from within the confounds of the Birmingham-based firm and outside it.
He formed parent company Boparan Holdings in 1998, followed by his own separate private-investment vehicle Boparan Ventures, under which he bought fish-and-chip shop chain Harry Ramsden's in 2010. Mr Boparan has also invested in a string of foodservice outlets such as the Cinnamon and Giraffe restaurants through Boparan Restaurant Holdings.
And then there is the rather obscure Boparan Private Office, which snapped up Irish poultry supplier Grove Farm Turkey and Europe's largest turkey producer Bernard Matthews in 2016.
However, Boparan may have over-stretched his resources somewhat, particularly with regard to 2 Sisters, which diversified its business operations into biscuits, pies, puddings, seafood, and frozen pizzas with the acquisition in 2011 of Leeds-based Northern Foods. And, more recently in 2013, the so-called 'Chicken King' bought the UK red meat operations of Netherlands-based Vion Food Group for an undisclosed sum.
Peering into 2 Sisters' earnings results of late might raise some concerns, suggesting the time is ripe to consolidate the business through further disposals, along with, no doubt, a new and realigned focus by incoming CEO Kers. But then, to a certain degree, further acquisitions also cannot be ruled out, especially if they were centred on high-growth food categories.
Kers will also have to deal with the fallout from the hygiene scare at the firm's West Bromwich plant. That erupted last September, mid-way through 2 Sisters' fiscal first quarter, with the repercussions festering into this calendar year.
The scandal came to light from an undercover probe by The Guardian newspaper and the ITV News channel, who found workers tampered with slaughter-date labels on fresh chickens, and also uncovered other unsanitary practises, prompting UK supermarkets to suspend orders. Ultimately, 2 Sisters had to temporarily close down operations at the factory, while both the UK government and the country's Food Standards Agency took remedial action.
just-food's industry source says: "2 Sisters is still a very important food business but it is essential that it gets to grips with the underlying poor performance and lack of focus. For a largely private-label business, it must restore retailer confidence at the highest level."
2 Sisters' recent financial performance
While revenues have remained pretty consistent over the past three quarters at around GBP850m, give or take – with like-for-like growth rates ranging from 1.5% to 3.5% – it has been a different ball game in terms of profits.
In the second quarter of the company's current financial year ended on 27 January, 2 Sisters' operating profits slumped almost 71% to GBP5.7m, adding to the respective declines of 58% and 47% reported in the previous two quarters.
Profits after exceptional items and before interest and tax, slid to GBP2.4m in the three months through January, from GBP12.3m a year earlier. In the first quarter ended 28 October, that metric stood at GBP8.4m, albeit an improvement from the GBP17.6m loss recorded in the last quarter of the prior financial year.
More worryingly though, are the ongoing losses in retained earnings, a facet that, according to accounting practices, suggests a business is struggling to find a consistent strategy to generate profits. Among the solutions are reducing investment in working capital or borrowing funds, an option that would appear to be off limits to 2 Sisters given its bloated debt levels.
Second-quarter retained losses – after exceptional items, interest and tax – stood at GBP10.8m, widening from GBP6.6m in the first three months of 2 Sisters' current financial year. In the final quarter of the 2017 fiscal year, the shortfall stood at GBP28.6m, inflated by the loss of a significant frozen pizza contract.
And following the first-quarter numbers, Boparan noted: "Revenues continue to grow against a tough market backdrop. As well as commodity inflation, our results have also been affected by the temporary suspension of operations at our poultry-cutting plant."
The site restarted production early in November after gaining clearance from the Food Standards Agency, along with the major supermarkets agreeing, with the exception of Sainsbury's, to recommence supplies. Still, the damage to 2 Sisters had been done and it will be a test of Kers' mettle to restore confidence.
What does 2 Sisters' immediate future hold under Kers?
At the start of 2018, Mr Boparan had the brands of Fox's Biscuits, Holland's Pies, Donegal Catch, Matthew Walker Christmas puddings, and Green Isle frozen foods under the 2 Sisters' umbrella, all inherited from the Northern acquisition, and which included the Goodfella's pizza brand.
Those product offerings are divided into three groups: protein, branded and chilled, with the latter referred to as meal solutions in the most-recent earnings release.
Delving into individual performances, the protein segment stands out as the main revenue generator for the business, with persistent sales growth but falling operating profits, albeit more recently as a consequence of the shutdown at 2 Sisters' West Bromwich plant.
Meanwhile, 2 Sisters' chilled and branded product segments have been relative under-performers, with the former category experiencing consistent declines in both sales and operating profits over the last three quarters, opening up the sector for possible disposals.
Branded has done better, but not convincingly so, with sales ranging from flat to up but with operating profits remaining in the doldrums. Another potential divisional candidate for an offload?
That said, Mr Boparan appears to have recognised the need to consolidate operations. In January, he had agreed to sell the Goodfella's and San Marco pizza brands to the UK's Nomad Foods for GBP200m, recovering a portion of the GBP342m he reportedly paid to buy Northern.
But then at the time of the Northern acquisition, it was speculated he inherited around GBP300m in debt from that purchase, making the money he made from the sale almost immaterial.
And before February was over, an unconfirmed report by The Sunday Times newspaper suggested 2 Sisters was gearing up for a sale of its Irish seafood unit Donegal Catch, with Mr Boparan allegedly set to net GBP50m from any such deal. However, a disposal has yet to be confirmed or realised.
Nevertheless, even if a potential sale of Donegal Catch is still on the table, there would still be some ground to cover in reducing 2 Sisters' debt.
Still, some inroads have been made. The debt pile fell by a tad over GBP25m during the second quarter from a year earlier, coming to rest at GBP789m. And in the previous quarter, GBP46m was shaved off the stack to give a tally of GBP824m.
Taken in context though, the debt burden is still high compared to 2 Sisters' nearest UK rival, Premier Foods plc, which generated annual revenues last year of GBP819m and whose debt stood at GBP500m.
And for 2 Sisters, the much-watched debt-to-EBITDA ratio has been more stubborn. That metric rose to 5.67x in the most-recent reporting period, from respective readings of 5.44x and 4.93x in the previous two quarters.
According to the company's annual financial results for the year to the end of July filed with Companies House, it has GBP580m in long-term financing, with GBP250m coming due in 2019 and the balance two years later, which would coincide with a EUR300m (US$351.4m) repayment due the same year. In addition, 2 Sisters has a GBP60m revolving credit facility.
Our industry source says more business disposals should be initiated as a means to reduce the financial burden and free-up cash, but admits any funds raised would most likely be funnelled into shoring up the company's pension coffers, creating a strategic dilemma for both Kers and Boparan.
"The only way for 2 Sisters to reduce the debt and pension fund deficit is to undertake a major reshaping of the business, which will inevitably involve disposal of most, if not all, of the non-poultry assets. This would take 2 Sisters back to more like the business it was pre-the Northern Foods acquisition. "This means a disposal of the remaining frozen businesses (Donegal Catch and Holland's), the biscuit business and the red meat business. I don't know what the combined value would be but it would make a significant inroad into the debt, albeit that a substantial proportion of the disposal proceeds needs to go into the pension fund."
What next for biscuits?
So will Fox's Biscuits emerge as a potential candidate for a sale under Kers' watch, or will he seek to expand that part of the business by merging with Hertfordshire-based rival Burton's Biscuits Co. and listing the combined business, an option Mr Boparan was said to be reportedly considering as recently as last October to the tune of around GBP400m.
Such a move might be unwise given the consumer trend for more healthy eating and the myriad of biscuit choices on offer to shoppers. And it seems that Burton's itself – or its owner, the Ontario Teachers Pension Plan – may have recognised the pitfalls of pursing expansion within the biscuit category.
As far back as early in 2016, the maker of the Wagon Wheels, Maryland Cookies and Jammie Dodgers brands was said to be mulling a purchase of Fox's for around GBP350m.
just-food's industry watcher believes the incoming CEO will retain the remaining chilled business. "It is hard to see a disposal of the chilled businesses, and Ronald Kers' other big task is to repair relationships with the major retailers, which have suffered badly through the recent adverse publicity."
Looking ahead, eyes will be focused on what strategic blueprint Kers decides to implement once he has gained a foothold and set out his stall. However, it will be interesting to see if can succeed in turning around 2 Sisters' financial performance and eliminate the recurrent language of "tough" that has resonated through the company's earnings reports of late.