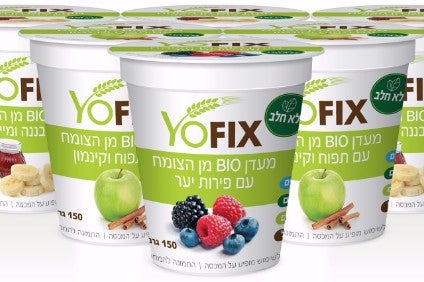 Yofix Probiotics, the Israel-based dairy-free yogurt start-up, has received funding from a consortium of investors that includes two major European dairy groups.
Taking part in the US$2.5m series A financing was Germany-based Müller Ventures – the venture capital arm of the country's dairy giant Müller – and France's Bel Group, home to cheese brands Babybel and The Laughing Cow.
The investment builds on funding Yofix got in 2017 led by Israel food and drinks maker Strauss Group, with participation from private investors in the US, the UK and Israel. It also earlier received seed investment from Israel's The Kitchen Hub, a food-tech incubator owned by Strauss and backed by the Israel Innovation Authority.
And, last year, Yofix emerged as the winner of PepsiCo's European incubator programme with a grant of EUR100,000 ($110,223 today).
Yofix was founded by Ronen Lavee as a manufacturer of plant-based fermented yogurts free-from dairy and soy, with no added sugar or preservatives.
Its chief executive Steve Grun said in a statement sent to just-food today (5 February) the company will use the funds to further expand internationally, and to add more product varieties. At the moment, Yofix products are only supplied in Israel, he confirmed, but plans for new markets will begin in the "coming weeks", starting with Western Europe.
"We are at the verge of our global expansion, and therefore need additional funds to support our international marketing and sales activities," he said. "We are also striving to increase our product portfolio beside the plant-based yogurt segment to other dairy-alternative categories like milk, soft cheese and even ice cream. Prototypes have already been developed, and we intend to boost our R&D efforts."
Müller, one of the largest dairy companies in Europe, set up Zurich-based Müller Ventures in 2019, according to a LinkedIn page for the investment vehicle.
On the page, the company says Müller Ventures "invests into early-stage start-up companies along the food and beverage value chain to generate a financial return and boost an innovation culture".
Benjamin Bugl, the managing director of Müller Ventures, said Yofix "offers a unique range of quality products, both in terms of flavour and texture" in what he described as "the fast-growing dairy alternative space".
He added: "With no artificial ingredients, its clean-label solution is a powerful differentiator for consumer awareness and acceptance. Combined with Yofix' strong management team, this makes it an attractive investment opportunity for Müller."
In September, Bel announced a new corporate strategy that included moves to create a "broadened portfolio of dairy, fruit and hybrid products" including plant-based items.
Caroline Sorlin, the general manager for Bel's "plant-based acceleration unit, also pointed to Yofix's recipes. "It offers a unique dairy alternative range for the market, combining great flavour, good nutrition, clean labelling, and respect for the environment. By taking part in the Yofix adventure, we are choosing to get closer to new players in the market that have key expertise and are developing the innovations of tomorrow. Bel Group is entering the plant-based arena for the first time, so this gives concrete expression to our strategy of combining the best of dairy and plant-based products."