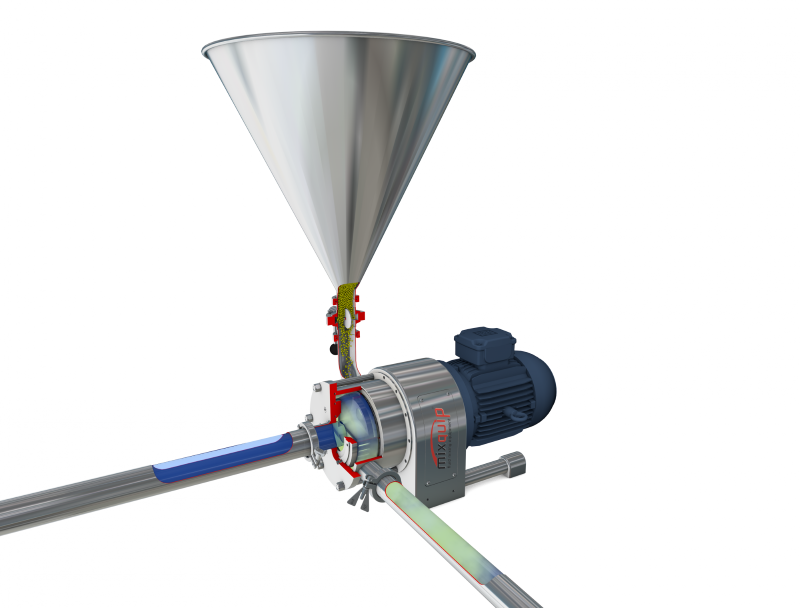 Dispersing solids evenly remains one of the most challenging processes in many industries today. The Mixquip Series 620 is ideal for dispersing hard-to-wet powders into liquid without clumping, floating, or dusting. The Series 620 takes a ground-breaking approach to mixing powders into liquids. Traditional powder-into-liquid mixers often use a vacuum to pull powders into the liquid stream, whereas the Mixquip 620 drives powder into the liquid stream. This not only allows it to disperse and hydrate large volumes of hard-to-wet powders and additives, but it also means it can be accomplished with high viscosity products at varying temperatures.
Some advantages of the Mixquip Series 620 include:
A consistent, clump-free product every time
Can operate at a variety of different temperatures
Hygienic and easy-to-clean ergonomic design
Rapid powder incorporation rates of up to 150 kg/min
Suitable for higher viscosity mixtures of gels, gums, and thickeners
Water flush seal design ensures seals are lubricated for extended run times
Critical high-speed components precision machined from solid 316 stainless steel
How It Works
First, the self-pumping mixer recirculates liquid from the process vessel through the workhead at a high velocity. After the powder is added to the funnel, the valve under the funnel is opened and the materials are drawn into the mixing chamber, where they are subjected to intense mixing by the high-speed rotor. The powder and liquid components are then forced through the high shear work head and are instantly combined as they are subjected to intense mechanical and hydraulic shear. The resultant mix is pumped into a vessel.
Applications
Providing the ultimate solution for powder liquid mixing, the Mixquip Series 620 provides a simple, effective, and sanitary means of incorporating powders into liquids at high viscosities and over a range of temperatures, producing an agglomerate-free, consistent product, every time.
Dairy and food and beverage manufacturers operate in a highly competitive environment, with a need to deliver safe, hygienic, and tasty food at competitive prices while having minimal impact on the environment. Food and beverage processors around the globe rely on our technologies to cover a wide range of specific requirements. Our mixers are used to create products such as gums and thickeners, flavour emulsions, confectionery, and sauces and dressings. Mixquip Side Entry Agitators were first installed in Australian wineries in the late 1970s and the Mixquip Series 50 clamp-on agitators are used for mixing sugars, yeast, and additions such as bentonite.
The pharmaceutical industry, manufacturing products to be taken orally, administered intravenously, or injected, requires the utmost levels of hygiene and product integrity. Only processing equipment that eliminates any potential contamination from service media, or external elements, can be used. Products such as toothpaste, tablet coatings, pharmaceutical syrups, and vaccines are mixed using our machines.
Mixquip has a glowing reputation across the Australian Pharmaceutical and Veterinary industries, supplying mixing solutions for multiple applications. Mixquip has been selected to design and manufacture multiple mixers and mixing solutions for a range of major pharmaceutical manufacturers across the Asia Pacific.
Mixer options
Supplied as stand-alone components or complete solutions, all of our mixers be customised for your processing needs by our in-house engineers. Our mixers can be fitted with components such as a mobile trolley, control cabinets with VF drive and automation, integrated clip cleaning, and a vag table and hopper vibrator to suit a variety of different needs.
For more information, please follow the links on our profile.
Whether your facility processes dairy products, meat, wine, juice or a multitude of other products, it pays to invest in a mixing system that will...
Heat is used to manage dangerous microbial organisms that can be found in raw products. These days, there are many options to use, but heat...