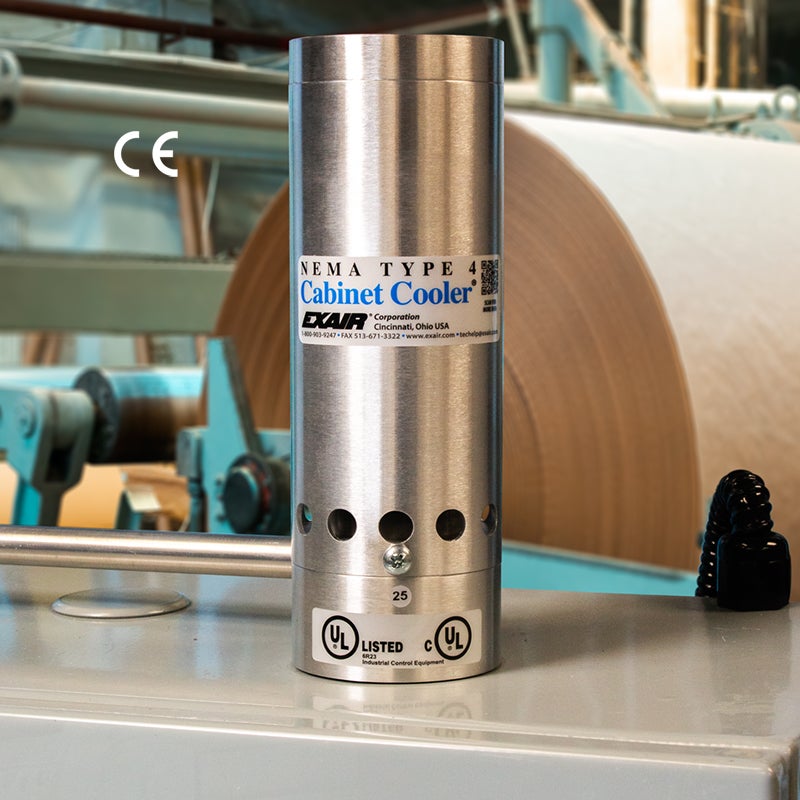 EXAIR's Cabinet Cooler systems can be customised to provide cooling within electrical enclosures in NEMA 12, NEMA 4, NEMA 4X and Hazardous location environments. These customisations include specific Btu/h values from 275Btu/h to 5600Btu/h, adaptations for high-temperature environments up to 93°C (200°F) and a selection of materials including aluminium, Type 303SS and 316SS, to combat corrosive environments. For dirty and dusty environments, a Non-Hazardous Purge option will create a positive pressure inside the cabinet to keep dirt and debris from entering your control panel. All systems are UL Listed and CE compliant.
Additional customisations include settings to maintain a specific cabinet temperature, special coatings, high-temperature materials, special cold air distribution kits and more. Cabinet Cooler systems are the low-cost way to purge and cool electrical control panels. They convert an ordinary supply of compressed air to cold, -7°C (20°F) air, without refrigerants. The cold air is circulated through the enclosure to eliminate heat damage and control shutdown.
Available from Compressed Air Australia, the compact Cabinet Coolers can be installed in minutes through a standard electrical knockout hole. Optional thermostat control minimises compressed air use. There are no moving parts to wear out and no maintenance is required. Applications include cooling PLCs, microprocessors, variable frequency drives, industrial computers and robotics.