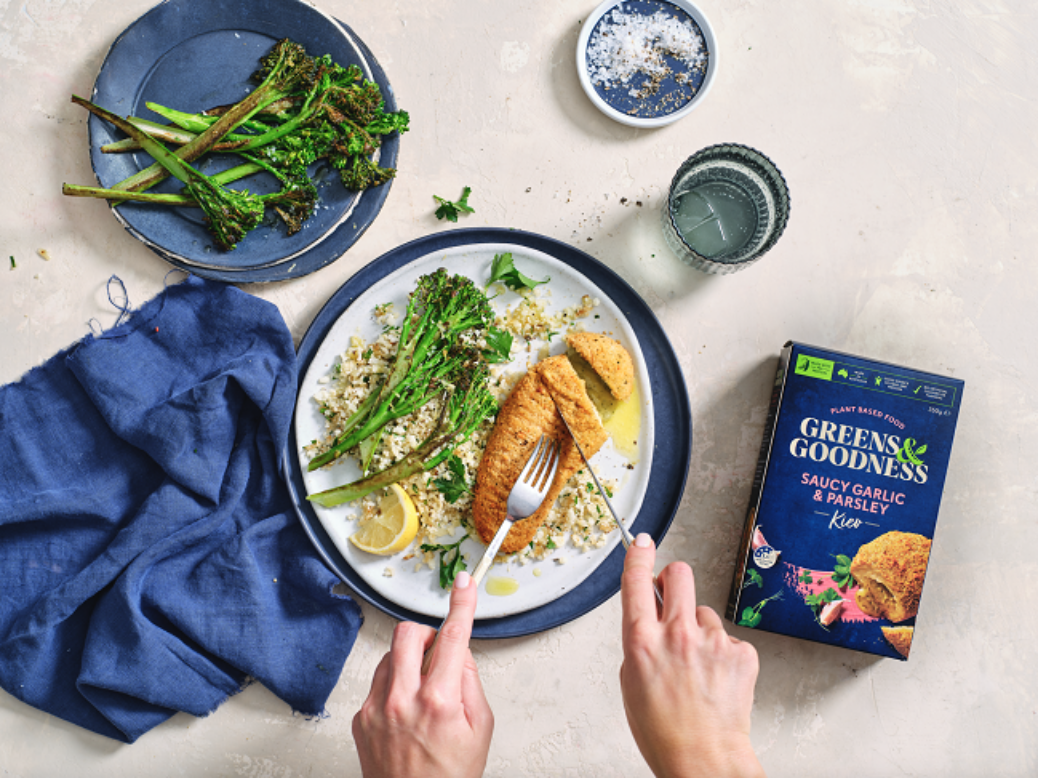 The rise of plant-based products and the arrival of cell-cultured – or 'clean' – options as meat alternatives are trends very much on the radar of the world's largest meat companies. Here we look at what those businesses are doing to make sure they are not missing out on alternative protein solutions.
Free Report
Innovation Update Q2 2022: Meat and Meat Alternatives
Meat alternatives continue to push boundaries, as companies explore 3D printed, plant-based, and precision fermentation-based alternatives. As a result, shoppers are more open to experimental formulations that introduce new flavors to meat products, blur traditional food categories, or swap in new ingredient types. It is vital for their development that retailers acknowledge this range of emerging trends during these increasingly uncertain times. Brands must continue to understand how consumer needs and desires change, and offer a range of products that reflect the world around them, therefore developing purchasing and consumption decisions. Exciting non-traditional formulations are hitting the market - following the trajectories and target audiences of these launches will help other brands find their niche. Consult our report on Meat and Meat Alternatives, from the collection of >17,000 reports on GlobalData Explorer, to:
Understand the current market dynamics of the Meat and Meat Alternatives Sector
Assess strategies implemented by companies to better penetrate the market
Understand the key themes in the market that these companies and their respective products appear to be targeting
Marketing / Advertising strategies being used by these players for specific products
Other segment-specific analysis (packaging, design, flavors etc.)
Don't miss out on key market insights that can help optimize your next investment – read the report now.
by GlobalData
Nestlé
The world's largest food maker, which owns a minority stake in European meats business Herta and buys in meat for a variety of ready meals and convenience-food products, has a growing presence in the market for meat alternatives.
In September 2017, the company entered the US market for plant-based food with the acquisition of Sweet Earth.
In Europe, Nestlé's has made a series of moves to try to tap into growing demand for plant-based alternatives to meat.
In the spring of 2018, the company launched the Garden Gourmet brand in the UK but, by April 2019, had confirmed the product was no longer on sale in that market.
April 2019 also saw Nestlé launch the Incredible Burger under the Garden Gourmet brand in select European markets.
In June 2020, Nestlé lost a trademark spat with US plant-based burger maker Impossible Foods and was forced to drop the Incredible Burger name, adopting the designation of the Sensational Burger instead.
In Australia, the Swiss giant markets its plant-based meat products under the name Harvest Gourmet, which was launched in that market in 2019.
The Harvest Gourmet brand was launched in China in the autumn of 2020.
In July 2021, Nestlé confirmed it was Nestlé "evaluating innovative technologies to produce cultured meat or cultured-meat ingredients with several external partners and start-ups".
Nestlé said an example was its work with Israeli cell-based meat start-up Future Meat Technologies. The company said it was partnering with Future Meat Technologies to "explore the potential of cultured-meat components that do not compromise on taste or sustainability".
Four months later, the company took part in the seed funding of Sundial Foods, a US start-up developing a vegan alternative to chicken wings.
Tyson Foods
The US meat giant, one of the largest companies in the sector, has perhaps done more than any of its rivals to position itself in alternatives to its core product.
Tyson Foods previously invested in US plant-based burger firm Beyond Meat and has backed two lab-based meat firms – Memphis Meats from the US and Future Meat Technologies.
In May 2018, it co-led a US$2.2m seed investment round in the Israeli firm through its Tyson Ventures arm.
It described the target of its investment as a "ground-breaking start-up developing affordable, non-GMO technology for cultured meat production". Future Meat Technologies is a Jerusalem-based biotechnology company advancing a distributive manufacturing platform for cost-efficient, non-GMO production of meat directly from animal cells, without the need to raise or harvest animals.
The investment built on its previously taking a minority stake in US-based Memphis Meats, again through its Tyson Ventures arm. Memphis Meats, based in the San Francisco Bay Area, said it planned to use the new funds to accelerate product development.
In April 2019, it emerged Tyson had exited its investment in US firm Beyond Meat, ahead of the Beyond Burger maker's IPO.
In June that year, Tyson launched a brand – Raised & Rooted – in the US, under which plant-based products and so-called 'blended' food (containing meat and plant ingredients) were sold. By the autumn of 2020, the company rolled out the brand to Europe, targeting the foodservice market.
In December 2020, Tyson announced it was making changes to the Raised & Rooted plant-based range it sells in the US – including pulling the hybrid burger on offer since the brand's launch last year.
Tyson started 2021 with the unveiling of plant-based breakfast patties under its Jimmy Dean brand, products it said would help meet demand for meat-free options at breakfast.
In June of that year, the company continued its push into meat alternatives launched its first plant-based meat brand in Asia.
JBS
In the spring of 2019, the Brazil-based meat titan, the world's largest beef processor, unveiled a plant-based version of a burger.
JBS launched the vegan product under one of its flagship Brazilian brands, Seara. The company said the Incrível Burger Seara Gourmet burger contained soy, beets, wheat, garlic and onion.
In March 2020, JBS announced it would launch plant-based protein brand Ozo in the US via a new subsidiary, Planterra Foods. Burgers were among the products to be rolled out.
In November 2021, JBS announced it taken a stake in Spain-based cultivated meat firm BioTech Foods.
Marfrig
Another Brazil-based meat major, Marfrig, announced in August 2019 plans to enter the plant-based category in an exclusive tie-up with Archer Daniels Midland.
ADM produces the base raw materials while Marfrig manufactures and sells the end products.
Marfrig's meat-free burgers – sold under the Revolution brand – launched in December 2019 and since then they have largely been targeted at the foodservice market where they are sold by the likes of fast-food giant Burger King and local chain Outback Steakhouse, which brands its meat-free offering the Aussie Plant Burger and sells it for around US$8.
In November 2021, the Marfrig-ADM venture, PlantPlus Foods, announced a pair of acquisitions in the sector. The JV snapped up Sol Cuisine in Canada and Chicago-based Hilary's for a joint consideration of US$140m.
BRF
Another Brazil-based meat giant has invested in alternatives to the conventional industry.
In the plant-based area, BRF markets products under its Sadia Veg & Tal brand, while the company has a contract with Aleph Farms, an Israel-based start-up focusing on cell-cultured meat.
Their tie-up, announced in March 2021, will see the companies work together on developing cell-based meat for sale in Brazil. "BRF is ready and charged to play a leading role in this food revolution and be an active participant in one the greatest industry transformations of this generation," Lorival Luz, the CEO of BRF, said at the time.
In July 2021, BRF invested in Aleph Farms as part of a US$105m funding round. Its contribution was $2.5m.
Cargill
US agri-food giant Cargill has also backed 'clean' meat company Memphis Meats.
In August 2017, Cargill joined a wide group of investors including Microsoft founder Bill Gates and Virgin founder Richard Branson in a Series A fundraising round.
"Our goal is to provide a complete basket of goods to our customers. We will do this by growing our traditional protein business, entering into new proteins and investing in innovative alternatives," Brian Sikes, group leader of Cargill's protein business, said at the time.
Cargill has continued to invest in conventional meat products but, alongside building that side of its business, has backed others offering alternatives. In May 2019, it was announced Cargill had also become an investor in Aleph Farms.
In February 2020, Cargill announced it would launch its own meat-free patties and ground products aimed at the private-label and foodservice channels.
Smithfield Foods
In August 2019, the US meat major, owned by China's WH Group, launched its own meat-free range.
Smithfield Foods rolled out meat alternatives in the form of breakfast patties, 'meatballs', burgers and starters, all marketed under the Pure Farmland brand.
The line-up from Smithfield covered eight soy-based products made with natural ingredients and are dairy and gluten free. Pure Farmland products were set to hit the fresh, refrigerated sections of grocery retailers in the US in mid-September 2019.
Maple Leaf Foods
Canada's Maple Leaf Foods has also been busy in meat alternatives.
In February 2017, it moved to acquire US plant-based protein manufacturer Lightlife Foods from private-equity firm Brynwood Partners for US$140m.
Announcing the deal, Maple Leaf claimed the acquisition establishes it as a "leader" in the US plant-based protein category through the Lightlife brand, which offers refrigerated products such as plant-based hot dogs, breakfast foods and burgers.
And it built on this in December 2017 when it entered an agreement to buy US-based Field Roast Grain Meat Co. for US$120m.
Seattle-based Field Roast supplies grain-based meat and vegan cheese products to the North American market. Its range includes sausages, frankfurters, burgers and deli slices.
In 2018, Maple Leaf created Greenleaf Foods, a new division to head the acquired Lightlife and Field Roast Grain Meat assets. In 2020, through Greenleaf, Maple Leaf invested in Gathered Foods, the US company behind the plant-based seafood brand Good Catch.
However, by 2021, the company was warning about the level of sales seen in the wider category. In November that year, Maple Leaf announced a review of its plant-protein business after a third quarter of declining sales. Three months later, the group said it would "recalibrate" its investment in the division to "align with the market opportunity".
It added: "The [financial] results to date confirm that the very high category growth rates previously predicted by many industry experts are unlikely to be achieved given current customer feedback, experience, buy rates and household penetration."
In 2022, Maple Leaf emerged as an investor in Evolved Foods, a Canada-based outfit developing cell-cultivated meat.
Previously trading as CaroMeats, Evolved Meats announced it had raised CAD2m (US$1.5m) in seed funding, with Big Idea Ventures, an alternative-protein venture fund and accelerator that has invested in plant-based and cell-cultured protein start-ups, joining Maple Leaf in the round.
OSI Group
The US-based meat supplier – with more than 60 facilities across 17 countries – announced in July 2019 a deal to produce the Impossible Burger, the flagship product of another Californian plant-based upstart, Impossible Foods.
The contract added capacity to Impossible's own plant in Oakland, California. It came as Impossible claimed it had seen "unprecedented demand" for the burger, which made its debut in selected restaurants in 2016.
Sigma Alimentos
Further south in Mexico, Sigma Alimentos, one of the country's largest suppliers of meat and dairy products, has invested in plant-based meat alternatives.
In 2021, the company announced it had acquired a minority stake in The Live Green Co. (TLGC), a Chile-based supplier of plant-based meat and dairy products.
Sigma described TLGC as "one of the most exciting plant-based start-ups in Latin America". The Santiago-based firm, set up in 2018, has a product range that includes plant-based burger and pancake mixes, as well as ice cream.
The company has also made moves in plant-based meat via its Spain-based business Campofrio Food Group.
Campofrio announced its first move into the plant-based protein category in June 2020.
The move came three years after it launched its Campofrío Vegalia unit with the aim of "responding to the needs of the vegetarian or flexitarian consumer".
The Madrid-based company launched a vegan burger made with ingredients including soy and pea vegetable protein, mushrooms and sunflower oil.
Magic Burger is made at the Campofrío Frescos plant in Burgos.
Thomas Foods International (TFI)
In April 2022, the Australia-based meat and seafood processor, which serves retail customers worldwide, announced it had joined a project to develop a plant-based protein and foods hub in the country.
Thomas Foods International (TFI), a processor of lamb, mutton, beef, goat and seafood, will build meat-alternative and plant-based extraction facilities in Australia.
At the time, Darren Thomas, TFI's managing director, said in a statement: "For Thomas Foods International, we see plant-based protein as a natural complement to our traditional product offering and allows us to reach new markets and customers.
"The market for plant-based products is also expanding rapidly and we see great opportunity to leverage our experience and expertise into this exciting new opportunity for local farmers and consumers across the globe."
Unilever
The owner of the Unox meats brand made a splash in alt-meat in 2018 with the acquisition of Netherlands-based The Vegetarian Butcher.
Unilever's sales of plant-based meat and dairy products (also including ice cream) were circa EUR200m in 2019.
In November 2020, the FMCG giant announced a target of generating annual sales of meat- and dairy-alternative of EUR1bn in the next "five to seven years".
Announcing the target, Unilever said it had grown The Vegetarian Butcher's presence to "more than 20,000 points of sale in 30 countries".
In May 2021, Unilever announced a "partnership" with UK-based Enough, which produces the Abunda myco-protein using a zero-waste fermentation process where natural fungi are fed with renewable feedstock, such as wheat and corn.
Noel Alimentaria
The company, a major name in Spain's meat industry, has made a foray into the market for meat-free products.
The family-owned business launched its first meat-alternative items, a substitute for a veal burger, in 2019.
In the summer of 2020, Noel Alimentaria announced the development of more products, all sold under the Nature sub-brand.
HKScan
The Nordic meat processor's presence in meat-free includes the manufacturing and marketing of meat-free products under its Pärsons brand in Sweden in 2016.
In November 2019, the company teamed up with Hes-Pro (Finland) to develop plant-based protein products, with the first foods from that partnership launched the following autumn under the HK Vihreät brand.
In May 2020, HKScan expanded further into the plant-based market with a joint venture with Finland-based private bakery business Leivon Leipomo. Six months later, the group inked a deal to sell Apetit's plant-based products in the Swedish foodservice channel, with distribution starting in February 2021.
Bell Food Group
European packaged meats supplier Bell Food Group is another to have invested in lab-grown meat.
In July 2018, the convenience food supplier invested EUR2m (US$2.4m) in Mosa Meat, a cultured-beef start-up based in the Netherlands.
"The objective of the upcoming development phase is to successfully bring cultured beef to market by 2021," Bell said. "The Bell Food Group supports the development and research work [at Mosa Meat] with its expertise and know-how as one of the leading producers of meat and charcuterie products in Europe."
Mosa Meat also attracted investment from M Ventures, the corporate venture capital arm of science and technology company Merck.
Bell has invested further in Mosa Meat since, most recently in July 2020.
The company also has plant-based meat alternatives in its product range. Bell sells products in Switzerland and Germany, marketing plant-based options under its The Green Mountain brand.
Hilton Food Group
In October 2018, the UK-based meat processor Hilton Food Group struck a deal to buy 50% of Dalco Food, a supplier of vegetarian products in the Netherlands.
The transaction, agreed for an undisclosed sum, gives Hilton an option to buy the rest of Dalco Food in 2024.
According to the Dalco Food website, the company started life as a butcher's shop in the centre of Oss, a city in the east of the Netherlands, in 1975.
Dalco Food's product line includes meat substitutes such as vegetarian burgers. It also includes products like chicken nuggets and meatballs.
The business' customer base takes in retailers on a private-label basis, the foodservice channel and food manufacturers.
Rastelli Foods Group
In the autumn of 2019, US-based meat and seafood supplier Rastelli Foods Group was signed up by Moving Mountains as the UK-based meat-free business' importer and "key distributor" in the country.
At the end of the year, Rastelli Foods Group also agreed to act as US distributor for UK meat-free start-up Daring Foods.
In February 2020, Daring Foods is also planning to launch a direct-to-consumer service in the US in February supported by Rastelli Foods.
Izico Food Group
In November 2017, Dutch frozen snack company Izico Food Group, which includes chicken skewers, mini burgers and meat croquettes in its range, added to its business in the UK with the acquisition of vegetarian foods supplier Goodlife Foods.
Goodlife's range includes vegetarian sausages and burgers supplied to the retail and foodservice channels.
Izico, which manufactures branded and private-label frozen food products, also has its own range of vegetarian and vegan products.
It said the "addition of Goodlife confirms the organisation's strategy to develop their UK business going forward and to cement their position as a leading supplier in their chosen categories".
PHW-Gruppe
The company, one of Europe's largest poultry processors, has made – or been involved in – a number of investments in businesses offering meat alternatives.
In January 2018, PHW formed a strategic partnership with Israeli 'clean meat' business SuperMeat. It provided financing that will enable the Tel Aviv-based, bio-tech start-up to bring its "clean-chicken products" to market.
SuperMeat produces meat by growing cells extracted from chickens. The cells are then grown in conditions that allow them to thrive, forming poultry cuts.
SuperMeat said of its business: "This process puts an end to the industrial need to mass produce animals for slaughter, while eliminating exposure to animal waste and food-borne illnesses; the potential benefits for public health and animal welfare are therefore considerable."
In September 2019, PHW was part of a consortium investing in Israel-based 3D printer alternative meat producing firm Redefine Meat.
In February 2020, Foods United, a US-based business set up to invest in the plant-based market, bought a majority stake in German vegan business LikeMeat. PHW-Gruppe owns a minority stake in Foods United.
A month later, Foods United was renamed The LiveKindly Collective after acquiring plant-based digital media platform, LiveKindly Media. The LiveKindly Collective also has South Africa-based business The Fry Family Food Co. in its portfolio, as well as the Nordic brand Oumph, which was acquired from Sweden's Food For Progress in the summer of 2020.
In 2021, The Livekindly Collective snapped up No Meat, the branded alternative-protein line owned by UK frozen-food retailer Iceland Foods. The same year, the company also bought Amsterdam-based The Dutch Weed Burger, which makes alt-meat products from seaweed.
In October 2020, meanwhile, PHW launched its own vegan brand, Green Legend.
RCL Foods
Another investor The Livekindly Collective is South Africa's RCL Foods, a major local supplier of poultry products.
RCL, the owner of the Rainbow chicken brand, invested in The Livekindly Collective in January 2020, acquiring a minority shareholding. Terms have not been disclosed.
A year later, RCL and The Livekindly Collective announced the formation of a joint venture to market the latter's products in South Africa and elsewhere in sub-Saharan Africa.
The venture, Livekindly Collective Africa, was launched in May 2021 and is markets the US firm's brands, including Fry's, Oumph and Like Meat, in the region.
Nortura
Norway's Nortura is among those meat companies to have launched their own ranges of meat-free products. In 2017, Nortura launched a line of vegetarian alternatives to meat called MEATish.
The line included MEATish bowls, nuggets, bites and burgers. It is made from GMO-free soy beans and Norwegian eggs. The company said the products have "equivalent or higher" protein and less saturated fat than meat options.
Nortura said at the time it is one of "several" vegetable-based projects it is working on.
Wiesenhof
In 2015, German meat processor Wiesenhof continued its push into meat-free with the launch of two vegan products.
The company, which already sold vegetarian lines under its Paul's Veggie brand, introduced a vegan sausage and a vegan mortadella – an Italian sausage. The products are made with pea and soy protein.
Wiesenhof pointed to data from the Vegetarierbund, Germany's vegetarian association, that it said showed 10% of German consumers are vegetarians.
Finnebrogue Artisan
In early 2019, the sausage, bacon and ham supplier, based in Northern Ireland, opened a new facility to make vegetarian and vegan products.
Announcing the investment, managing director Brian McMonagle said: "We are determined not to stand still and are always looking to make food the best it can possibly be, without being bound by the way it's always been done.
"More and more people are switching to a vegan or vegetarian diet – and even meat eaters are increasingly seeking a day or two off a week."
In May 2020 it launched a new plant-based range, consisting of Naked 'made without the moo' burgers, meatballs and mince products and Naked 'made without the oink' sausages.
The Black Farmer
In April 2018, The Black Farmer, a UK food business best known for sausages and other meat products, launched The Hatchery, a collaborative incubator for food entrepreneurs.
The first cohort was made up of three businesses, one of which is London-based Planet Jason which makes vegan burgers and sausages. meatless mince and chicken-type products.
Heck Food
The UK sausage maker branched out into meat-free products in the autumn of 2018, launching a range of plant-based sausages, with product names including The Beet Goes On and Bollywood.
ABP Food Group
Ireland-based meat processor ABP Food Group announced it was moving into the plant-based arena in February 2019.
The County Louth business launched its first fresh plant-based, meat-free brand for distribution in the UK.
Its brand is called Equals and is being sold through major UK retailers including Asda.
The company said the move was part of its "multi-million pound" investment in branded and ready-to-cook meat and meat-free products which complement its core processing business.
Equals' launch product was a pack of two meat-free quarterpounder burgers, made from a mix of seasoned pea and soy proteins.
The brand was delisted and, in 2021, ABP launched another brand, Dopsu, in the UK. ABP rolled out a range of frozen products under the Dopsu brand, which was a portmanteau of the words doppelganger and substitute.
Danish Crown
In August 2019, Denmark-based co-op Danish Crown announced it was to launch plant-based products.
The company said it would be ready to introduce plant-based alternatives to beef burgers before the end of the year.
Finn Klostermann, CEO of Danish Crown Beef, said: "Danish Crown Beef already has several hybrid products composed of minced beef and root vegetables in the chilled cabinets, they will soon be joined by products made entirely of plants. Before the end of the year a plant-based burger will be a part of our product range."
Klostermann said the co-op was responding to consumer demand.
In autumn 2020, Danish Crown confirmed it had acquired a stake in a local business making steak products targeted at flexitarians and vegetarians.
The company invested in INFoods, a new business set up by the founders of DK-Foods, the Danish pepperoni manufacturer Danish Crown acquired in 2018.
Tulip
In October 2019, Tulip launched a brand, The Green Butcher, and started selling products through UK grocer The Co-op.
US poultry supplier Pilgrim's Pride acquired Tulip for US$290m. Pilgrim's Pride is majority-owned by JBS.
Hormel Foods
US-based Hormel Foods launched a meat alternative brand in the shape of Happy Little Plants in September 2019.
The Austin, Minnesota-based branded food company – behind products such as Skippy, Spam and Applegate – announced the launch at the Barclays Global Consumer Staples Conference in Boston.
It said the initiative, mooted back in June, is the first project under its Cultivated Foods umbrella.
It had previously launched blended meat and vegetable products.
Vion Food Group
Netherlands-based meat business Vion Food Group announced in October 2019 it was to establish an arm manufacturing plant-based meat alternatives.
ME-AT was to provide products on a private label basis to retailers, most likely in its home market and in Germany.
There were no plans to bring out branded products using the ME-AT label.
Vion did not disclose which proteins will be used in its five planned products.
Kepak Group
Ireland's Kepak is another company to seek to tap into the interest in vegetarian brands.
In January 2020, Kepak announced it was rolling out a vegetarian product under its ready-to-cook burger brand Rustlers.
The Rustlers Moroccan Vegetarian Burger – which had a recommended retail price of GBP2 (US$2.60 at the prevailing exchange rate) – is made with chickpeas, carrot and coriander. Every Rustlers comes with a sachet of sauce and the veggie product is sold with mango chutney and a yogurt-and-mint sauce.
In October 2021, Kepak launched a product it described as a "meat mimicking" burger.
Made with pea protein and launched under the company's Rustlers brand, the Meatless Maverick burger was launched at Tesco stores and at the retailer's One Stop and Booker outlets.
"The meat-free movement has rapidly accelerated growth of the category, which is being driven by flexitarians as consumers seek more balance in their diets," Adrian Lawlor, Kepak's chief marketing officer, said at the time.
"It's important for a brand like Rustlers which has built its success on meeting clear consumer needs to recognise this trend and provide solutions to meet it. For meat reducers, Meatless Maverick provides an easy swap while behaviourally fitting existing habits, therefore requiring less of a conscious shift."
NH Foods
In the spring of 2020, the Japanese group, home to businesses including Nippon Ham, was announced as among a group of investors taking part in a Series A round of funding in IntegriCulture, a Japanese firm developing cell-based foods.
A spokesperson for NH Foods told just-food at the time: "By strengthening the collaboration through this investment, we will accelerate technological research for the realisation of clean meat and verification of future business possibilities. IntegriCulture is a start-up company that has useful technology in developing clean meat and is actively taking on the challenge of market creation."
IntegriCulture's key aims are to bring cell-based foie gras to market in 2021 and processed meat in 2023. It hopes to then start marketing cell-based beef in 2025.
Hanegal
The Danish manufacturer, which sells a range of meat products, also offers organic, meat-free meals and, in 2020, stepped up its presence in the market for meat alternatives by acquiring local plant-based ready-meals manufacturer Fairdig.
Cees Kuypers, the commercial director and co-owner of Hanegal, said at the time: "The acquisition is strategically important to us as we thereby strengthen our position in plant-based ready meals. The acquisition gives us a good starting point for further expansion – and especially in the frozen category and in export markets where Lise-Lotte has extensive experience."
Scandi Standard
The Nordic chicken group, formed in 2013 by private-equity house CapVest through the combination of processors Kronfågel and Cardinal Foods, owns poultry brands across western Europe.
In the autumn of 2020, Scandi Standard announced a plan to work with local food-development firm Veg of Lund in R&D projects centring on plant-based protein.
Century Pacific Food
Century Pacific Food, a meat and seafood products manufacturer in the Philippines, moved into alt-meat in 2020.
The publicly-listed business started off with plant-based burgers, which were rolled out in the company's foodservice operation – Shakey's Pizza Asia Ventures – in October.
Century Pacific then launched a brand, UnMeat, into the country's retail sector.
Charoen Pokphand Foods
In May 2021, the Thailand-based pork and poultry heavyweight unveiled plant-based brand Meat Zero and announced an ambition for it to become a top-three alt-meat brand globally within five years.
On its way to that goal, Charoen Pokphand Foods wants the brand to be the top alternative meat brand in Asia "within 2022".
Five months later, CPF announced the acquisition of 50% of Poland-based Well Well, which manufactures a range of plant-based meat substitutes.
Al Islami Foods
Middle East manufacturer Al Islami Foods made its meat-free debut with the launch of a plant-based burger in January 2021.
The United Arab Emirates-based company, one of the largest frozen food companies in the region, said it had launched the product in response to the growing appetite for healthier vegan options and in time for Veganuary, a global campaign that encourages people to try a plant-based diet in the New Year.
Its burger is made using sunflower protein, fava beans and peas and is the first in a series of plant-based products that the company planned to roll out.
Jensen Meat Co.
In 2021, the California-based beef processor broke ground on a dedicated facility for meat alternatives due to be operational in April that year.
The project came under a year after Gregg and Jeff Hamann, who have owned Jensen Meat Co. since 2011, acquired a controlling interest in local plant-based business Before the Butcher.
Van Loon Group
The Netherlands-based business, which is centred on meat and ready meals, has a presence in alt-meats.
In 2019, the company launched meat-free brand The Blue Butcher, which sells into retail and foodservice.
Two years later, Van Loon set up The No Meat Today Company, a dedicated meat-free arm, to try to expand its business in the meat-alternatives sector.
Country Archer Provisions
In August 2021, the US jerky firm Country Archer Provisions launched a plant-based option, made from oyster mushrooms.
The jerky was rolled out in BBQ, teriyaki and spiced bacon variants.
Country Archer Provisions, based in San Bernardino, California, is best known for its grass-fed beef jerky and meat sticks. The company suggested its plant-based line is a "clean-label snack that both flexitarians and vegetarians will love".
Harvest Road
Australian beef and seafood processor Harvest Road is a shareholder in Proform Foods, a local plant-based meat business.
Harvest Road acquired its minority stake in Proform Foods in 2021.
Based in Sydney, Proform Foods was set up in 2008 as an R&D business, providing protein ingredients. The company is still an ingredients supplier but has branched out into brands, selling the Meet range (stylised as 'MEET') of plant-based meat alternatives.
Baiada
Staying in Australia, another major local meat group that offers meat-alternatives is Baiada, the poultry processor.
The company markets a range of products, including nuggets, kievs and tenders, under the Greens & Goodness brand.
Baiada says it uses a pea-based protein for its meat alternatives for "an improved taste, flavour, texture and nutrition".
The Greens & Goodness range comprises frozen and chilled products. Upon the launch of the frozen SKUs in July 2022, Baiada said: "According to the research of 2,000 Australian consumers conducted by Baiada, one-in-four households now include at least one vegetarian, vegan or meat reducer, representing nearly AUD26bn in household consumer spending. While existing plant-based protein offerings focus on wellness, research suggests that consumers are looking for greater convenience and improved taste and texture from current plant-based offerings."
Free Report
Innovation Update Q2 2022: Meat and Meat Alternatives
Meat alternatives continue to push boundaries, as companies explore 3D printed, plant-based, and precision fermentation-based alternatives. As a result, shoppers are more open to experimental formulations that introduce new flavors to meat products, blur traditional food categories, or swap in new ingredient types. It is vital for their development that retailers acknowledge this range of emerging trends during these increasingly uncertain times. Brands must continue to understand how consumer needs and desires change, and offer a range of products that reflect the world around them, therefore developing purchasing and consumption decisions. Exciting non-traditional formulations are hitting the market - following the trajectories and target audiences of these launches will help other brands find their niche. Consult our report on Meat and Meat Alternatives, from the collection of >17,000 reports on GlobalData Explorer, to:
Understand the current market dynamics of the Meat and Meat Alternatives Sector
Assess strategies implemented by companies to better penetrate the market
Understand the key themes in the market that these companies and their respective products appear to be targeting
Marketing / Advertising strategies being used by these players for specific products
Other segment-specific analysis (packaging, design, flavors etc.)
Don't miss out on key market insights that can help optimize your next investment – read the report now.
by GlobalData