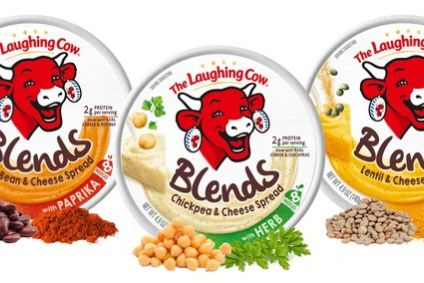 Big Idea Ventures, an alternative-protein venture fund and accelerator, plans to bolster its presence in Europe with backing from French dairy business Bel Group.
Its New Protein Fund directed at start-ups offering seed and early-stage financing in plant- and cell-based foods with US$50m in its pocket, is seeking to open an accelerator in Paris with investment from Bel and Bühler Group, a Swiss company that makes factory equipment for food producers and builds facilities.
Big Idea Ventures launched the fund in 2019, closing with $50m to invest and with backers that included Bühler, Singapore's state venture-capital fund Temasek and Tyson Foods, the US giant that is among the world's largest meat companies.
More than 20 businesses have had investment, including Grounded Foods, a US-based firm specialising in plant-based cheese; Shiok Meats, a Singapore startup developing cell-cultured foods; and Zhenmeat, a Chinese business marketing alternatives to products such as pork and crayfish.
Bel will provide "special support" under a partnership with Big Idea "designed to strengthen the expertise and capacity for accelerating projects detected and integrated into the fund", the venture fund said in a statement.
Andrew Ive, Big Idea Ventures' founder and general managing partner, said: "This investment by Bel – based in Paris and a major global player in single-serving healthy snacking – will provide the New Protein Fund with more than additional capital. It is a strategic partnership to continue investing in and supporting the world's most-promising entrepreneurs who are actively creating the future of alternative proteins in Europe and beyond."
Bel, the owner of the Laughing Cow and Babybel cheese brands, announced a new investment in plant-based products in 2019 and the following year backed dairy-free start-up Yofix Probiotics in Israel. The company has since launched dairy-and-plant hybrid products, as well as a dairy-free camembert under its Nurishh brand.
It also completed an acquisition, with a majority stake in All in Foods, a French start-up manufacturing plant-based cheeses and sauces.
Caroline Sorlin, general manager of Bel's plant-based acceleration unit, added: "By identifying and supporting as early as possible the start-ups and projects involved in inventing tomorrow's food, Bel is demonstrating its desire to make these solutions a reality and make them accessible to all. This partnership embodies our model: constantly innovating, co-constructing with all those who share our values and vision."
just-food archive, August 2020 digital magazine: "We're looking for big ideas that will have global popularity" – interview with Big Idea Ventures founder Andrew Ive