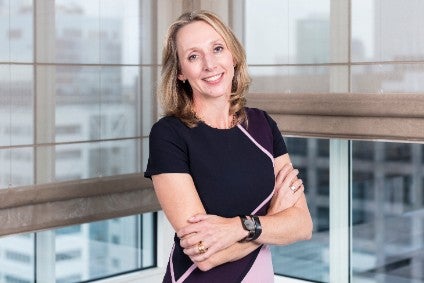 Unilever's food operations, though global and with some strong brands, is a low-growth business – but that doesn't stop the FMCG giant believing it can improve the performance of the Knorr-to-Magnum unit. Dean Best sat down with Hanneke Faber, the president of Unilever's foods and refreshment division, to discuss innovation, M&A and purpose.
The position of food within Unilever's portfolio has long been the subject of debate in investor circles – and the business unit's recent performance has only added to the chatter.
But Unilever believes it can boost the slow growth in sales from its foods and refreshment division, a business housing brands like Lipton tea, as well as Knorr stock cubes, Magnum ice cream and Hellmann's mayonnaise.
In 2018, Unilever generated EUR20.2bn (US$22.56bn) of its EUR51bn turnover from foods and refreshment, which equated to a 2.3% rise in underlying sales (once the impact of the spreads it sold during the year was stripped out of the numbers).
During 2019, that growth from foods and refreshment has slowed still further, although there was a slight pick-up during the third quarter, with nine-month underlying sales rising 1.5% year-on-year (versus 1.3% at the half year).
Today, Unilever issued a sales warning for its overall business. The Ben & Jerry's owner cut its forecast for the year's underlying sales growth, citing a slowdown in south-east Asia and "difficult" trading conditions in west Africa.
On a group-wide basis, Unilever targets annual sales growth on an organic basis of 3-5%. In 2018, sales by that metric grew 3.2%. Unilever's two other divisions – home care and the combined beauty and personal care – saw their underlying sales rise by 4.2% and 3.1%.
Today, Unilever said it expects its 2019 underlying sales growth to be "slightly below" guidance the company gave earlier in the year of growth in the lower half of the 3-5% range. The group also said it expects its underlying sales growth in the first half of 2020 to be below 3%.
"Growth remains our top priority," Unilever CEO Alan Jope said today as the company's shares tumbled more than 5%. "We are continuing to invest in the business and take the necessary actions to sequentially step up performance going forward."
What role will Unilever's foods and refreshment division play? Martin Deboo, an analyst covering Unilever for investment bank Jefferies, last month described how the group's disposals of food assets in recent years had been a "long goodbye to foods [which] has left it stuck in mature, centre-store categories that will be tough to turn around".
Surveying the business overall, Jope said today: "I don't think we're staring down a competitiveness issue," pointing to success in improving previous "hot spots" like ice cream in North America.
However, there are some in the market who argue today's warning underlines that Unilever needs to make some decisions on its portfolio. "Unilever argues that 'competitiveness' (market share) is not the problem. We are inclined to agree. But that doesn't absolve Unilever from the need to make sharper choices around portfolio prioritisation and participation," Deboo said.
The head of Unilever's foods and refreshment business has been Hanneke Faber. The former Procter & Gamble and Ahold Delhaize executive was promoted to the role in May after 16 months at the helm of Unilever's business in Europe.
"Global foods is a market that's growing 3-4%, so there is no reason why we couldn't grow the same or maybe slightly better," Faber insists.
just-food met Faber on 6 December at Unilever's official unveiling of its new innovation centre in Wageningen, a town in the centre of the Netherlands 55 miles from Amsterdam.
The event came three weeks after Unilever's management hosted an investor conference in the US, at which Jope was pretty explicit about the group's plans to ease off on the number of acquisitions it will make and look more closely at making disposals. "We know that we have structurally lower-growth segments in the business and we're in the process of carrying out uncompromising evaluation with an open mind. There are no sacred cows," he said.
Given that parts of Unilever's foods and refreshment division are low-growth operations, does Faber anticipate there could be some disposal activity in her areas of the business? "Time will tell," she replies.
In the wake of the investor event in November, another analyst covering Unilever, MainFirst's Alain Oberhuber, argued parts of the foods and refreshment division "not performing currently are the North American dressings business, the US ice cream business and the black tea business". He added: "The jury is out whether these brands can be fixed. If they cannot be fixed and the category is not interesting, they will be divested."
Focusing on the food elements of that trio, Faber says both the North American dressings operations and the US ice cream business are seeing their performance improve.
"The US ice cream business has gone through a lot of upheaval over the last few years. There was the launch of Halo Top, which really was disruptive in the market when it was launched. We're past that now. Then, earlier this year, we actually took a significant price increase to help profitability so that was also a little difficult in terms of volume. We've been growing share the last few periods. I'm cautiously optimistic that will come in in a more sustainable growth pattern," Faber explains.
"[Dressings] is also looking much better, I'm happy to say, since really the beginning of spring this year, good share momentum."
Although some in the investment community continue to question Unilever's very presence in food – Jope fended off a question about that at the investor event in the US last month – the company has made acquisitions in the sector in recent quarters, most notably the purchase of Netherlands-based meat-free supplier The Vegetarian Butcher.
Even if on a corporate level, the accent of Unilever's M&A activity might be more on disposals in the quarters ahead, the company remains open to adding businesses. Where could that be in foods and refreshments?
"Our categories or adjacent. We're always on the look-out," Faber says, reflecting on her overall remit of foods and refreshments (the latter taking in not just ice cream but also beverages under Unilever's classification) "I'm quite pleased with a number of the acquisitions that were done recently – before me, I didn't do them. Pukka Tea, a beautiful foods and refreshment acquisition; The Vegetarian Butcher just now; and then, hopefully, Horlicks, which is of a very different magnitude and will also be a real accretive factor. We are looking for brands that have clear purpose when we acquire. That's why both Pukka and The Vegetarian Butcher are a really nice fit."
'Purpose' has become an industry buzzword when describing a company's overall mission, with many an executive often tying the term to a business' sustainability agenda. There is, though, no mistaking Unilever's belief that doing business sustainably is also good business.
Jope has put forward Unilever's desire for each of its brands to have "purpose" and suggested the company would offload those that did not, although it is clear Unilever is giving all parts of the portfolio (including the likes of Marmite and Pot Noodle) a chance to find their cause.
"I honestly think every brand can have a purpose," Faber tells just-food. She says speculation about Marmite's future in the Unilever portfolio "has been in the British press a lot" adding: "Of course, Marmite is a British icon. It has had some phenomenally funny [marketing] recently. I think the team is really at the same time quite serious about its mission, which is actually to get people to eat breakfast – and a more nutritious breakfast than super sugary cereal, right?"
Unilever and innovation
At the unveiling of the new food R&D centre, CEO Jope said the facility would help Unilever contribute to a "fundamental transformation of the food system", looking at areas such as "malnutrition, obesity, climate change and food waste".
But how can the new site help breathe fresh life into the sales Unilever generates from food, especially in an industry being shaken up by agile start-ups tapping into evolving consumer trends and habits? Faber points to the nature of the facility, nicknamed by the company Hive for its location in the Wageningen area. In a nod to Silicon Valley, the area, also home to food-focused Wageningen University & Research, is sometimes called 'Food Valley'.
"In our previous building – and [this is also true of] it's also many of our competitors – we were in very closed buildings, it all had to be confidential. We were closed off to the world. You can't be like that any more," she says. "The symbolism of this building – it's actually a very open building. We're really trying for this to be very open, so that we can connect with the academics on campus, with the many start-ups and scale-ups that this university spawns in the agri-food area. It will be so much more collaborative, just because we are here and we built this to be open."
Another question with which Big Food is wrestling is whether innovation projects should be run at a corporate, global level or more locally. At the Unilever investor event in November, Jope suggested the company could manage of its innovation initiatives at a global level. "We allowed the pendulum on innovation to swing too far to local and we generated lots and lots and lots of well-intentioned but necessarily small local projects," he asserted. "We are getting much more top-down on identifying the global-priority, big-hit innovation."
Sitting with just-food in Wageningen, Faber says: "I think it always has to be a balance, especially in foods. Tastes are local, competition tends to be more local than in some of our other businesses. We're always going to have local innovation, but we also have, seven EUR1bn-plus global brands and, on those, I think we can have a real competitive advantage when we have some global Big Bang innovation programme. It's going to be a combination but it's not all local or all global."
Unilever's work at the Wageningen site will contribute to what Faber describes as the "tailwinds" she thinks could drive growth for the foods and refreshment division, such as the company's burgeoning plant-based offering and its operations supplying the out-of-home channel.
"You saw the kitchens here," she says. "We employ 50 chefs here. We bring restaurants and restaurant chains in here. For the Vegetarian Butcher burger with Burger King, we worked together here to get something that really tastes like that flame-grilled burger that the Whopper is." Last month, Unilever and its The Vegetarian Butcher unit launched the plant-based Rebel Whopper burger at Burger King outlets in more than 20 countries.
Alongside purpose and "winning innovation", plant-based foods and the out-of-home channel are what Faber calls "four clear growth choices" Unilever's foods and refreshment business can use to try to grow sales.
Discussing Unilever's priorities for foods and refreshment, Faber says plant-based foods are "very high" on the list. "It goes across categories. Plant based isn't just meat replacement," she says. "We are a huge user of dairy, a huge ice cream business and, there, plant based is also really important. Today less than 5% of our ice cream businesses is vegan. We need to take that to 15% or 20%. We're also the biggest seller of mayonnaise. I expect that loads of mayonnaise will still have eggs in the future but vegan Hellmann's is a phenomenal product and particularly popular with chefs."
Overall, Faber says she is "optimistic" Unilever can improve the sales growth it is seeing from its foods and refreshments arm. She notes how the company is facing "headwinds", pointing, for example to how "traditional retail, as for almost all of our competitors, is just not an area of fast growth. If our traditional grocers can inch out a percent growth they're doing pretty well."
However, Faber, a seven-time Dutch national springboard diving champion, adds: "We have to focus on those tailwinds, whether it's channels, whether it's within the portfolio – things like plant based but also premium ice cream. It'll be really important for us to be brave and focus there versus on the headwinds that we also have. It doesn't mean you can't grow in a headwind but it's a lot harder."