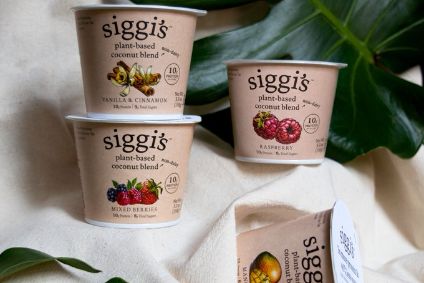 French dairy heavyweight Lactalis is to take its US-based Siggi's yogurt brand into the plant-based category.
Siggi's said the launch, taking place this month, comes after two years of development and "fills key gaps consumers have desired from similar non-dairy products".
Its plant-based recipe is said to continue "the brand's legacy in lower sugar and simple ingredients" and Siggi's claims it contains three times more protein and 40% less sugar than leading yogurt alternatives.
The recipe contains 10 grams of protein and 8-9 grams of sugar per 5.3-oz cup. Launch flavours include vanilla cinnamon, mixed berries, raspberry, and mango.
The yogurts are made from a blend of coconut, macadamia and pea protein.
Siggi's founder and chairman Siggi Hilmarsson said: "I am very excited to offer consumers a plant-based option of our popular products. Like our dairy products, our plant-based products are rich, creamy, lower in sugar, and higher in protein than what's available on the market today.
"Nearly 15 years ago, we started a low-sugar, simple ingredient revolution with our signature Skyr, and now continue to deliver on that commitment in plant-based as well.
Siggi's began in 2004 when Hilmarsson felt homesick for a staple of his childhood diet, Skyr, a thick, creamy, high-protein yogurt from his native Iceland.
The business was bought by Lactalis in January 2018 for an undisclosed sum.