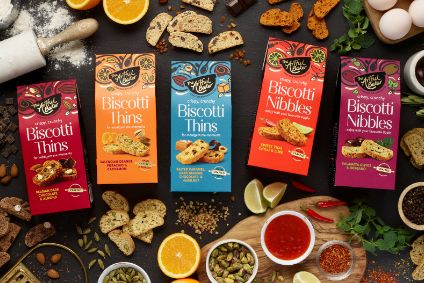 Batch Ventures, the joint venture between UK bakery major Warburtons and challenger-brand builder Mission Ventures, has invested in local biscotti maker The Artful Baker.
The "six-figure investment" in the firm, based in Dorset in southern England, is Batch Ventures' first since it was formed in July last year, although it suggests a second deal is imminent.
Founded in 2013, The Artful Baker's eponymous brand is sold in the domestic market while its Great British Biscotti Co brand is exported to the US, Norway, Italy, Germany, Canada, UAE and Kuwait. It also supplies independents and the foodservice channel.
The wider business also supplies white-label biscotti to upmarket confectionery retailer Hotel Chocolat.
Jonathan Warburton, the bakery group's chairman, said: "We were impressed with The Artful Baker's quality of products and level of innovation and see a great opportunity to support their growth plans. Working with Mission Ventures and using Batch as a vehicle for small investments in a portfolio of promising brands gives us an opportunity to support early stage entrepreneurs."
The Artful Baker founder and CEO Paul Rostand added: "We're excited to be partnered with Batch Ventures and see the support they provide as a great step forward on our journey of scaling the business, both here in the UK and via export trade."
Paddy Willis, CEO of Mission Ventures, added: "Paul and his team at The Artful Baker have proven their ability to make high-quality products. Batch Ventures is pioneering a new approach to corporate venturing and the combined experience of our team of seasoned entrepreneurs with the support of Warburtons brings great strength to his operation."
Mission Ventures was set up by entrepreneurs who has established and sold their own food businesses. Willis was behind the Plum Baby brand while Nigel Parrott established Ape Snacks and John Stapleton founded New Covent Garden Soup Company and Little Dish.
It has also set up an accelerator for food and drink SMEs and is the delivery partner for the Good Food Fund, backed by Big Society Capital and Impact on Urban Health to pilot market-led solutions to childhood obesity.
just-food's free-to-read guide: Big Food's stake in the future – in-house venture-capital funds