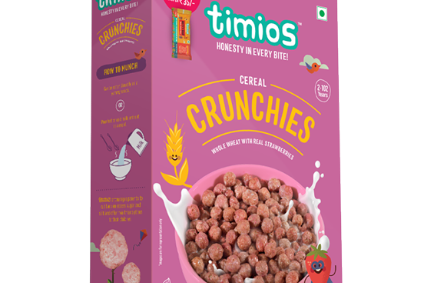 Norway-based Orkla Group is investing in FirmRoots, an Indian start-up that makes nutritional snacking products for children, via an investment fund recently launched by its local subsidiary.
India's largest packaged food firm and Orkla subisidiary MTR Foods is investing an undisclosed amount in Bangalore-based FirmRoots' Timios brand – which manufactures products exclusively for children aged from six months to 12 years – through its INR500m (US$7.4m) seed fund started in 2017.
FirmRoots was founded by Aswani Chaitanya and Hima Bindu. Timios products are 100% natural and free from artificial flavours, colours and excessive salt and sugar. The brand, formerly known as Piñata, includes all-natural energy bars, Crunchies breakfast cereal, and finger foods for toddlers.
MTR Foods said it launched the seed fund with the objective of investing in food-related start-ups in India over the next two years. While the size of the stake in FirmRoots is unknown, MTR said the fund aims for a 26% to 49% shareholding in its investment targets.
Chief executive Sanjay Sharma said: "As the first investment from the seed fund, FirmRoots is a great start, as the company has brought forth a range of snacking products that are apt for the nutritional needs of children – a space that is hitherto untapped. We are pleased to be their partner in their journey."
As well as the investment, Orkla's Indian subsidiary will also serve as a mentor to FirmRoots management team in terms of marketing, sales, distribution and food safety standards.
FirmRoots Chaitanya said the investment funds from MTR will be used to develop the Timios product range and to expand geographically.
"This investment will surely provide us with the strategic support required to grow further," he added. "Along with the investment from the MTR Seed Fund, we will also value the mentorship and strategic advice given by them.
"In a short period of time, Timios has managed to become a brand known in the market for its honest, healthy products that are great for the snacking needs of children."