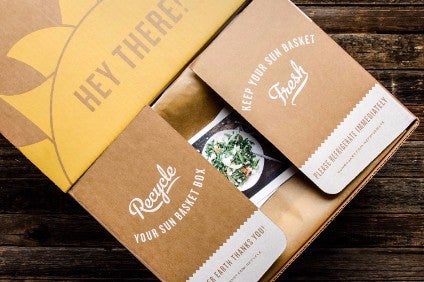 Unilever has headed a round of investment into Sun Basket, the San-Francisco-based organic meal kit delivery service.
The latest US$9.2m investment featured Unilever Ventures, the venture capital and private-equity arm of the consumer goods giant. US venture-capital firms Baseline Ventures and Founders Circle Capital were also involved.
According to Bloomberg, Sun Basket has hired banking advisers to lead an IPO that could value the business at around US$1m. Sun Basket has not commented publically.
The latest round of investment, announced today (11 May), boosts Sun Basket's total funding to $24.2m as the company raised $15m in the first quarter of the year.
Sales soared by 1,300% last year, and the new funds raised will help Sun Basket to expand nationwide, the company said.
"Having reviewed a large number of meal kit players in the United States, we have been really impressed by Sun Basket's extremely fast growth and category leading customer retention rates," said Olivier Garel, the head of Unilever Ventures. "Over a relatively short period of time, Sun Basket has built a clear leadership position as the best healthy, organic meals service platform, addressing consumers' growing demand for healthy, tasty, diet-specific but convenient solutions. That, coupled with Sun Basket's values and commitment to sustainability made it a natural fit into the Unilever Ventures family."
At the same time, Sun Basket has launched a facility in the US Midwest. The company has sites on the West and East coasts, which it said means it can supply organic meals to 98% of US consumers. The company claims it can reach more zip codes than any other grocery retailer in the country.
Sun Basket has raised $52M to date, with other investors including PivotNorth Capital, Accolade Partners, Sapphire Ventures, Shea Ventures, Relevance Capital, Vulcan Capital, Filter 14, and Silicon Valley Bank.
Unilever was among the first FMCG companies to set up in-house investment arms, with Unilever Ventures founded in 2002.
However, a growing number of Unilever's peers have formed their own VC-style divisions in recent quarters, including General Mills, Campbell Soup Co. and Kellogg, to invest in up-and-coming food companies, particularly in the US.
Last month, Unilever bought outright US condiments company Sir Kensington's for an undisclosed sum. Sir Kensington's, formed in 2010, had secured backing from investors including Verlinvest, the Belgium-based private equity firm.