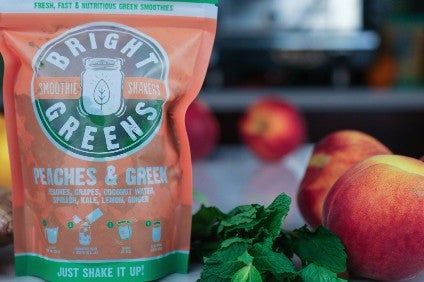 Kellogg has led a round of investment in US plant-based smoothie firm Bright Greens.
The US snacks and cereal giant said it had backed Bright Greens through its in-house investment fund Eighteen94 Capital, which the Special K maker formed last year.
Kellogg did not disclose how much it had invested in Bright Greens nor specify the size of the stake it had taken in the business, which was formed in 2015.
"Bright Greens is reimagining the smoothie, making it more convenient for consumers to get their fruits and vegetables," Simon Burton, the managing director of Eighteen94 Capital, said. "We are very impressed with the innovative form factor Brian developed, and we see enormous potential for Bright Greens given the demand for convenience in our culture."
Bright Greens sells frozen smoothie cubes to which consumers add hot water and then shake for a cold smoothie. The company said its products can be found in selected Whole Foods Market outlets and more than 1,000 Kroger stores.
The investment round also saw US private-equity firm Blu Venture Investors put money into Bright Greens. Brian Mitchell, the CEO and founder of Bright Greens, said the company was "excited to partner with Eighteen94 and Blu to build our company". He added: "The deep domain expertise and ability to help Bright Greens commercially was a true differentiator among the investors we met."
Kellogg set up its Eighteen94 Capital investment vehicle last summer to make "minority investments" in companies pioneering what it called "next-generation innovation" in the food sector.
The fund made its first investment in January, when Kellogg led an investment round worth US$4.3m in Kuli Kuli, a US company making bars and powders from the plant food moringa. Other backers were Canada-based InvestEco and US venture capital frim S2G Ventures.