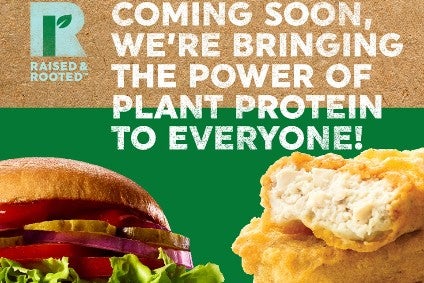 US meat giant Tyson Foods is seeking to appeal to both traditional meat lovers and proponents of plant-based alternatives with the introduction of a new brand – Raised & Rooted.
With the launch, New York-listed Tyson is taking its own route to capture demand from within the fast-growing plant-based fraternity having sold its shares in meat-free company Beyond Meat in April. Beyond Meat has taken the retail and foodservice markets by storm with its meat-alternative burgers, and to a lesser extent sausages, demonstrated by its heavily oversubscribed debut share offering.
Raised & Rooted includes real meat products and plant-based ingredients in the range. The range features plant-based nuggets and blended burgers made with a combination of both beef and plants. The nuggets will roll out late in the summer followed by the Raised & Rooted blended burgers in the autumn.
"The initiative makes Tyson Foods the largest US meat producer to enter the growing alternative protein segment with its own products," the Arkansas-headquartered firm said in a statement today (13 June). "The Raised & Rooted brand was created to provide great-tasting plant-based and blended foods that are rooted in how people eat today."
Noel White, the president and chief executive of the business, said: "Today's consumers are seeking more protein options so we're creating new products for the growing number of people open to flexible diets that include both meat and plant-based protein. For us, this is about 'and' – not 'or.' We remain firmly committed to our growing traditional meat business and expect to be a market leader in alternative protein, which is experiencing double-digit growth and could someday be a billion-dollar business for our company."
Tyson is also extending the initiative to its existing Aidells sausage brand with the launch of Aidells Whole Blends.
Aidells Whole Blends products include a range of fully-cooked sausages and meatballs made with a blend of antibiotics-free chicken and plant-based ingredients such as chickpeas, black beans, quinoa, lentils and barley.
Meanwhile, the Raised & Rooted nuggets are made from a blend of pea protein isolate and other plant ingredients and contain five grams of fibre and less saturated fat than traditional nuggets. The blended burger is made with Angus beef and pea protein isolate and has fewer calories and less saturated fat than the plant-based burgers sold by "several competing companies", according to Tyson.
Justin Whitmore, who was recently installed to lead Tyson's alternative proteins business, added: "We began development of our alternative protein products last year and have succeeded in creating a new brand and bringing those products to market in well under a year. The creation of the Raised & Rooted brand is an excellent example of Tyson's ability to think big and move fast, capitalising on our existing infrastructure."